WBD and Media Trust launch 'Black Britain Unspoken'; Vice, e.TV ink deal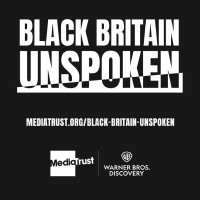 Warner Bros. Discovery, Media Trust partner on the Black Britain Unspoken initiative
Warner Bros. Discovery has partnered with UK charity Media Trust on a new initiative, Black Britain Unspoken, which will enable selected black creators to pitch, produce and publish their projects through Discovery+ and select digital and linear channels WBD during Black History Month in the UK in October.
Aimed at addressing the historic under-representation of black filmmakers in the roles of director, screenwriter and producer within the UK industry, the initiative aims to discover new black talent and provide black creatives with the opportunity to work with industry professionals from pitch to post-production. .
Applicants can submit their short form project proposals from today (May 9) until June 6, and shortlisted applicants will then be invited to pitch their projects to a panel of executives and decision makers. Five locations will be selected to go into production, with full financing provided by Warner Bros. DiscoveryUK.
Warner Bros. Discovery will be represented on the committee by Simon Downing, senior vice president of marketing and head of factual and documentary materials; Clare Laycock, senior vice president of planning and ideas and head of entertainment; and Emma Cassidy, Director of Creative Services. Also in attendance are Daisy Church, Screen Industry Program Manager for Media Trust; Joanna Boateng, producer at Minnow Films and Concordia Studio; and Leon Oldstrong, director at Solaris2 Media.
"We are delighted to launch Black Britain Unspoken with the Media Trust, with the aim of removing some of the barriers black British creatives face in entering our industry," WBD's Downing said. "By creating an initiative that provides access to the end-to-end process of pitching, creating and launching content, we hope Black Britain Unspoken will not only showcase diverse talent and stories, but also provide Black creatives trying to break through with a opportunity to make their voices heard.
"We hope the Black Britain Unspoken initiative will continue to elevate and provide opportunities for our network of emerging talent from underrepresented backgrounds," the Media Trust church added. "We are acutely aware of the amount of talent there is in Britain and the need to support that talent by telling their own stories – and those of others."
Vice Distribution signs deal with South African broadcaster e.TV
Vice Distribution, the global distribution and licensing arm of Vice Media Group, has announced a partnership with South African broadcaster e.TV. The deal will see over 400 hours of non-fiction content from Vice available on the national free-to-air broadcaster across South Africa and sub-Saharan Africa.
The titles made available under the deal span all unscripted genres, from entertainment and documentaries to lifestyle programs and true crime. The shows that will be offered to e.TV viewers include Vice franchises such as Dark Side of the Ringthe most expensive, the black market and Damn it's deliciousas well as the feature documentary The great pressure (on Gamestop Marketplace Drama) and True Crime Docuseries betray badgeabout cops going bad.
"Vice's unrivaled and diverse range of programming and unique voice has found a fantastic home in South Africa. We look forward to working with e.TV to forge a deep and long-term partnership in the region," said Bea Hegedus, Global Head of Distribution for Vice, in a press release.
Programming long lost family to Australia
Global independent distributor Lineup Industries has signed an overall deal with Australian pubcaster ABC that will see the Long Lost Family format on the channel from this month.
ABC has acquired the first eight seasons of the original British series, giving people desperate to reunite with long-lost relatives one last chance. ABC also picked up the first three seasons of the UK follow-up series Long Lost Family: What Happened Next?.
long lost family proved to be an evergreen world-format juggernaut for local releases and tape sales. Over two decades of broadcast, the format has been produced for channels such as TLC in the US, NPO 1 in the Netherlands, Nelonen in Finland, TV4 in Sweden, Reshet in Israel, Ten in Australia, DR in Denmark and ITV in the UK.
"This format is one of the oldest in the market and continues to go from strength to strength, consistently gaining and retaining audiences," Lineup Industries founder Julian Curtis said in a statement. "We are seeing strong demand for the tapes alongside local remakes, which is a testament to the fact that it remains one of the best performing factual entertainment shows on the market. The UK version is a standout show – in demand in many territories international – and the soon-to-be-released rights to the US version will continue to strengthen the brand.
(With files by Justin Anderson)