Strange Town Bottle Shop opened at 3rd Street Market Hall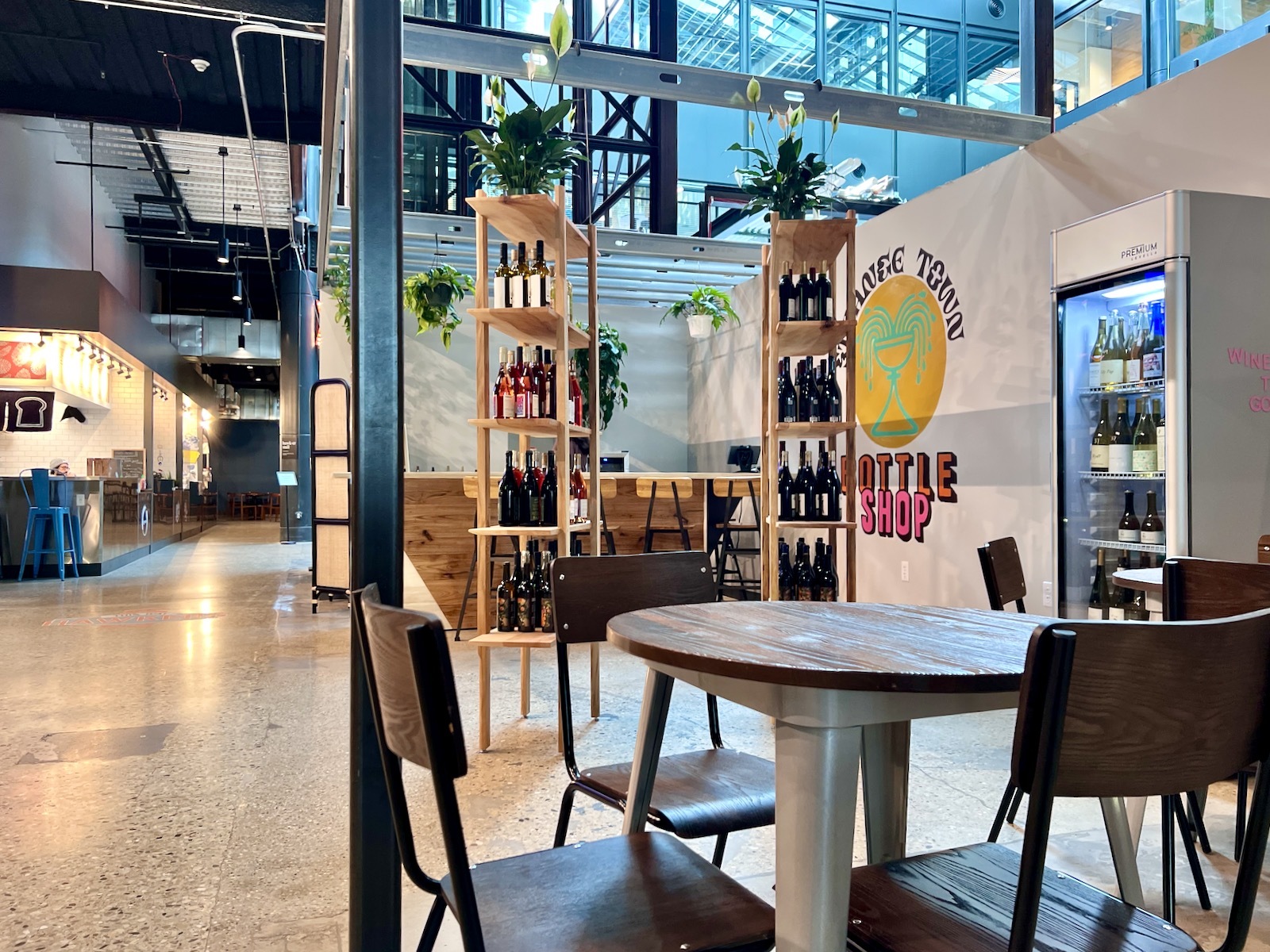 The Strange Town Bottle Shop officially opened to the public this week at 3rd Street Market Hall, 275 W. Wisconsin Ave.
Enter the space and you will find a beautiful bar and shelving in butternut and sycamore wood designed and built by local carpenter Christopher Brooks and a hand painted sign by local artist Eleanor Ahlberg of EJArt Co.
But you'll also find a growing selection of fantastic natural wines that run the gamut from sparkling and rosé to red, white, orange and co-ferments (a combination of red and white wine mixed together).
Some of the wines are selections available at Strange Town, 2101 E. Prospect Ave., the East Side restaurant that has built a solid reputation for its globally inspired plant-based sharing plates, low ABV cocktails and its warm and friendly atmosphere. But you will also find new selections that you may not have encountered elsewhere.
Best of all, you don't need to know anything about wine to navigate the shop, thanks to friendly, knowledgeable staff who welcome the chance to introduce you to something you'll love.
Owner Mia Le Tendre says the shop typically offers between nine and 12 bottles of wine to enjoy by the glass (with prices ranging between $10 and $15). Additionally, any bottle can be purchased to be consumed on the spot or to be taken and enjoyed at home. Most bottles in the shop are between $20 and $50
Customers are also encouraged to request a taste of one of the open bottles at the wine bar or stop in for free tastings every Monday.
In fact, tasting, exploration and curiosity are the name of the game. Le Tendre says the bottle store was created explicitly to provide a casual, non-judgmental wine experience that showcases the growing world of wines. natty.
"Our selection focuses on small producers, family farms and women-owned vineyards that produce wines that are not only amazing to drink, but sustainable at the same time," she says.
"I can introduce you to some weird wines… some that are really cloudy with unique flavor profiles. But I can also point you to wines that are really, really classic, but that have been raised with respect for the land and with practices that not only make great wine, but support our land.
Le Tendre says her motivation for opening the boutique was to create a space accessible to everyone, a place where she and her staff could share their passion and knowledge while offering customers something amazing.
"One of the reasons I love natural wine is because I want to support sustainability and small-scale operations. But I also love that these vineyards take away some of the pretentiousness of wine culture. They are made to be enjoyed fresh, not cellared for years.
In fact, Le Tendre says she welcomes the opportunity to talk with curious customers, whether they're trying wine for the first time or just looking for something new and interesting to try.
"Just like craft brewing, the world of wine has grown so big," she says. "And there are so many stories to tell. We want to share our passion and our knowledge without pretension. I think the wave of the future is to cast off all of our old thoughts and impressions about wine and really embrace a new way of looking at things."
She says that while the bottle shop is starting small, she plans to expand the wine selection over time, as well as adding a selection of beers, ciders, sakes and other beverages.
The Strange Town Bottle Shop joins a growing list of tenants in the new downtown food hall, which includes Dairyland (burgers, chicken sandwiches, ice cream), Mid-Way Bakery (bakery, desserts, soups, salads, sandwiches) , Amano Pan (breads, pizza), Hot Dish Pantry (pierogi, hot dish), Strega (starters, pasta, desserts) MaKE Waves (smoothies, juice, acai bowls), Greenhouse (salad, sandwiches), Middle East Side (Middle Eastern wraps and sides) and Dawg City (hot dogs, sausages).
And there are still plenty of vendors along the way, including Anytime Arepas (Venezuelan arepas and desserts), Supernova Coffee & Donuts (doughnuts, coffee), Paper Plane Pizza (pizza), and Kompali Tacos & Tortas.
3rd Street Market Hall is open Monday through Thursday from 11 a.m. to 8 p.m., Friday and Saturday from 11 a.m. to 10 p.m. and Sunday from 11 a.m. to 7 p.m.